Setting up myself to read
50 books for the year (c/o Goodreads)
was quite ambitious. I should know as I knew there's a possibility I'd get lazy mid-way through. But as someone who doesn't set high expectations on anyone, I likewise did not pressure myself that I
should
read 50, but I
could
. I thought it would be great to set a higher goal and if I actually achieved it, that would be totally amazing. At some point, I even thought of "cheating" my way through by reading more comic books, graphic novels, and kids'/YA books, lol.
The number of books to read was motivated by the desire to spend less and save more, so I could travel or buy a gadget. Sometime mid-year, however, there were some changes work-wise, so plans got busted and uncertainties crept up. Around this time, if I recall correctly, reading slowed down.
Anyway, I trudged on and managed to finish 24 books by the end of the year. I've started more than that and I promise to get on with the unfinished ones this year. I'm glad I even had time to read and enjoy these books.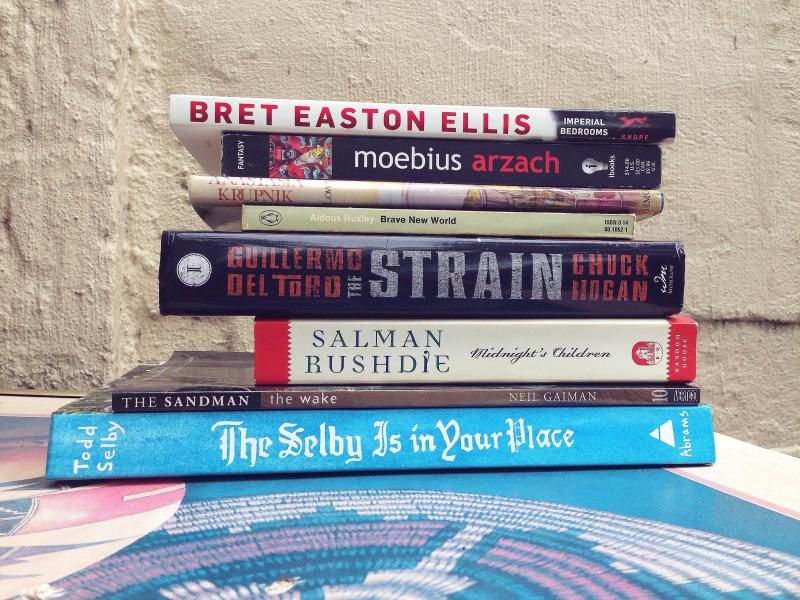 Hardcovers & Paperbacks
Midnight's Children by Salman Rushdie
- Incredible, engaging writing. History, humor, heartbreak.
The Strain by Guillermo del Toro & Chuck Hogan
- I expected something extraordinary out of the story because I loved del Toro's
Pan's Labyrinth
, but this book's a so-so. I guess I'll have to get a copy of the remaining two books from the trilogy to really appreciate the story.
Brave New World by Aldous Huxley
- Test tube babies, doping out of depression and discomforting emotion, caste system, pre-determination of one's role in the society, polygamy. I wish I read this sooner!
Imperial Bedrooms by Bret Easton Ellis
- I read this prior to
Less Than Zero
, which I think was a bad idea because this references some events from its predecessor quite a lot. Imperial Bedrooms was my first Easton Ellis book and I've never encountered such unbelievably passive and amoral characters.
Moebius' Arzach by Jean-Marc L'Officier
- The first part of the book, where you are taken to a fantasy world and get introduced to the hero, Arzach, was fun to read. But when it got to the second part where you are taken to modern-time Earth and find out that characters from both worlds had to work together to fight an extremely evil character, it went utterly ridiculous and downhill for me. It was so cheesy! I wish I got introduced to this Moebius character with a better material.
Middlesex by Jeffrey Eugenides
- Some characters were interesting - the narrator's grandparents were a stand out. But I wish we learned more of the narrator - the hermaphrodite - since her/his discovery and acceptance of her/his "middlesex-ness".
T-Backs, T-Shirts, Coat, & Suit by E.L. Konigsburg
- I hope teenagers read this!
Sandman: The Wake by Neil Gaiman
- I cannot cope with the brilliance, lol. I have to read this again.
Anastasia Krupnik by Lois Lowry
- Maybe it would be a good idea if I share this book to a 9-year old but I keeping this!
Danny the Champion of the World by Roald Dahl
- It is not a good idea to teach your kid to steal, Mr. Dahl. But, I do agree with you about adventure and
sparkiness
.
Only You Can Save Mankind by Terry Pratchett
- This is the first book from Pratchett's John Maxwell trilogy and I hope I could find the rest of the books from the treasure trove that is Booksale!
The Selby is in Your Place by Todd Selby
- I don't think I ever bought a Php300-ish secondhand book until I saw this in their shelves. I had to get it. I mean, come on, I only had to pay a fraction of its brand new, retail price and it's still in mint condition!
Here
is a peek of its contents. I'm on a lookout for Edible Selby now.
Fortunately, the Milk by Neil Gaiman
- Have you already noticed I have a thing for books for kids? LOL. This is an enjoyable read. If you have kids, read this to them.
E-Books
A Feast of Crows by George R.R. Martin
- I actually started reading A Feast of Crows towards the end of 2012 and finished it early 2013. It's a shame: I honestly could only remember so few of what happened in this ASOIF installment, and I think the only thing that stood out to me was finding that Reek was/is Theon Greyjoy.
The Fault in Our Stars by John Green
- I know many people love this book, but I honestly dislike it. If I read this at a different time and mindset, I guess I would have appreciated & loved this. Also, although I don't doubt there are smart, witty, deep, wise-beyond-their-years teens out there, I find the main characters' conversations utterly pretentious. I actually wonder why I disliked this (constant eye-rolling happened) when I absolutely loved
Juno
.
The Long Dark Tea-time of the Soul by Douglas Adams
- After reading The Hitchhiker's Guide to the Galaxy, I would give every Douglas Adams book a chance. As expected, this was funny and peppered with ridiculousness.
Marvel 1602 by Neil Gaiman
- Your favorite Marvel superheroes in action in the year 1602!!!
Less Than Zero by Bret Easton Ellis
- The characters had an abundance of material wealth, as well as passivity, nihilism, and amorality. It's not the kind of book you'd "enjoy" reading, but something you could learn from about people.
Get the Fuck to Sleep by Adam Mansbach
- Just for the lolz.
Urban Gardening by Will Cook
- I got into this
gardening phase around August
and tried to learn as much as I could. I actually read 3-4 books on gardening but this one's the most useful among them.
Mindless Eating by Brian Wansink
- This read is a delight. It talks about the psychology of eating and while the topic has the potential to be technical and academic, this book is not. It's easy and fun to read while learning why we eat more than we think.
Bossypants by Tina Fey
- Because it is Tina Fey.
Inside Scientology by Janet Reitman
- Scientology is intriguing and
Inside Scientology
is one of the few resources I've read about the religion to satisfy my curiosity.
A Dance with Dragons by George R.R. Martin
- I started reading this at the start of the year, when I finished
A Feast for Crows,
and finally got done with it by December. It took me the entire year to finish it because I got bored midway. A lot went on and somehow nothing
really
happened!
What books did you read last year?
PS. Links to books are under Amazon Associates program. If you buy a copy of the book, I get a small commission (I think haha). Thanks for reading!
x Roanjean