Let me start this post (and series of post thereof) with a little background of our group/the girls I was with for this muscle-numbing yet fulfilling trip:
Ane, Jini, Mel and I all met online, via blogging and online forum. Around 2003, I "met" Jini on tBlog's message board. We hit it off right away. Jini and Ane became buddies in a Peyups forum of a band they both like (I assume this is Incubus). We were all in college. Ane and I got into each other's radar through Jini and other common blogger friends (side note: I kind of miss the "scene" then,
charot
). I don't recall if it was Jini or me who "discovered" Mel's blog maybe around 2005 but I vividly recall I instantly liked how she writes. We graduated from the same university (where she now teaches) so it was a nice denominator, too.
In our blogger group (there was quite a number of us), Jini and I were the only ones from Davao and everyone's from Metro Manila/Luzon. I got to meet them when I worked in Makati after college, but I somehow never got the chance to meet Ane (
EB or "eyeball" pa ang tawag dati nun
, megalolz). I finally met her when we watched Incubus' concert in 2008 (?...
basta
the second concert they had here!). Jini and Mel somehow got in contact with each other again recently and met (they're both currently in Davao City). Mel and I "re-connected" through Jini c/o Twitter. Ane and Jini was concocting travel plans and Jini invited Mel and me. Ane and I hadn't actually met Mel in real life until that trip. Also, there was supposed to be another blogger friend who's coming with us but he backed out a week before the trip (Hello Mardk,
ang pogi mo
).
SO!
The Manila-Banaue bus left at 9:00pm from Sampaloc and arrived in Banaue around 7:00am. This is the view of the Banaue rice terraces (just some of it because apparently, they're all over Banaue and the Cordilleras region) from the restaurant we had breakfast in: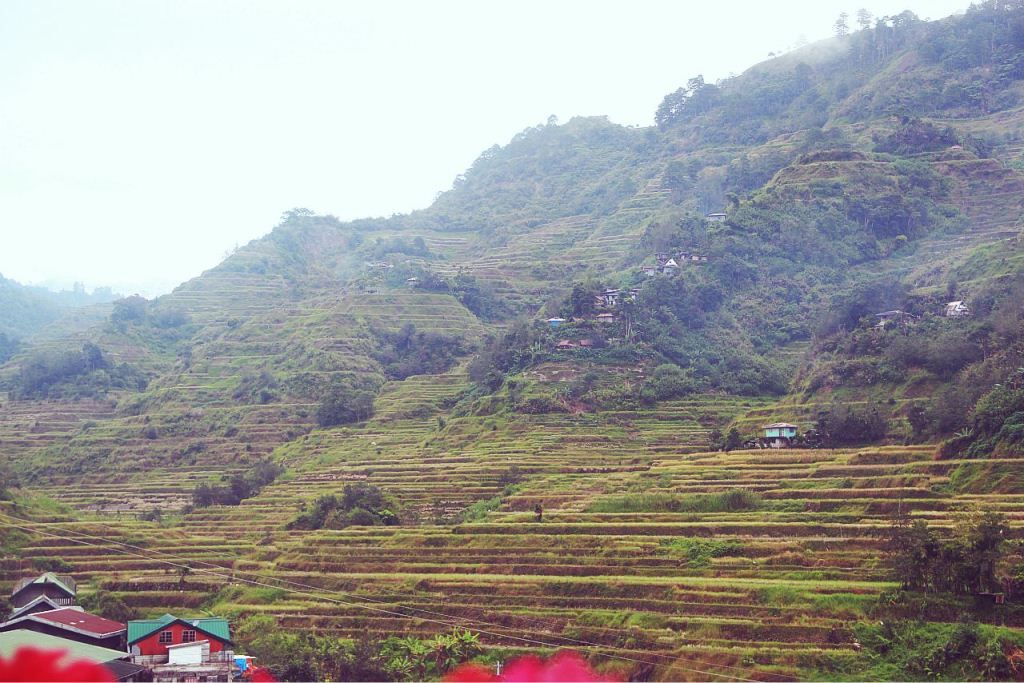 We still had to take a passenger jeepney to take us to
Batad Saddle Point
and then from there, trek for 45 minutes to 1 hour to reach the main village. Batad has one of the best rice terraces views and the most challenging trekking trails. It's about an hour away from Banaue proper.
I wanted to ~topload~ on the jeep that's taking us to Saddle Point because you'd get the best view while travelling through rough roads from there but when the jeep's about to go, it was already too crowded on top of the vehicle. Topload dreams quashed. JK.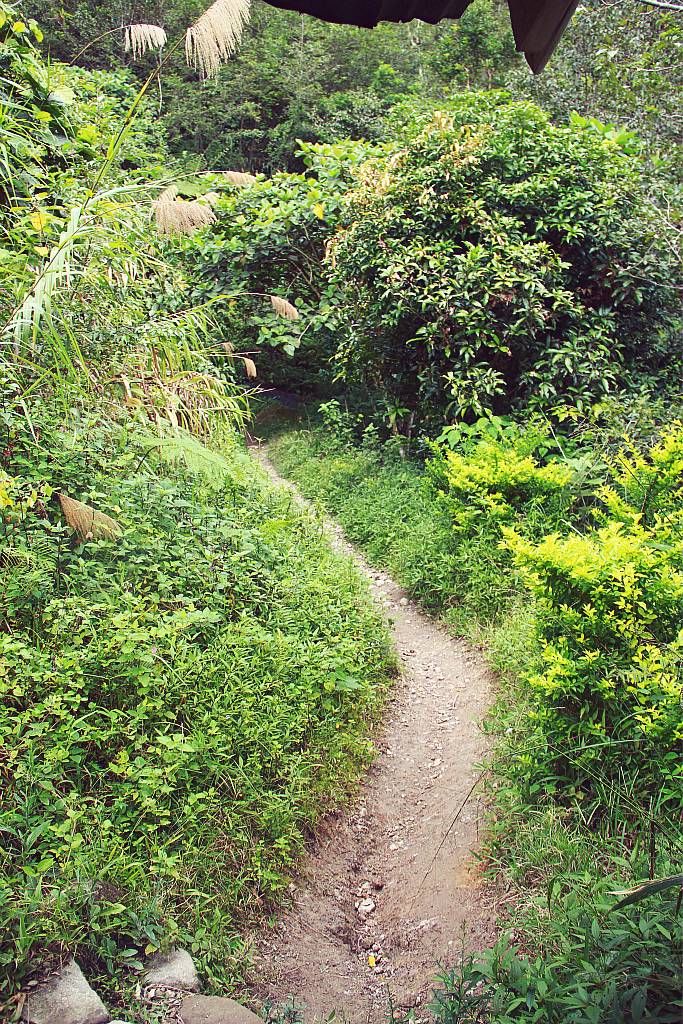 Our tour guide, this kid JD, fetched us when we reached Batad Saddle Point. That's where everyone's dropped off and starts a hike to the main village of the barangay. Now, I'd like to mention that within 3 minutes of the trek, I injured myself. The left photo above was taken shortly after I stepped on loose gravel, slid, landed on my left knee, and scraped it. We just put a bandage on it then moved on. The pain was bearable but it was such a nuisance when walking through challenging trails for the first time.
Maybe no more than 10 minutes since I scraped my knee, I lost my balance again. Stupid pebbles. I mean, I felt so ridiculous and wimpy when we hadn't even reached a quarter of the entire walk yet! So I had to suck it up, dude.
We reached the main village maybe after 45 minutes to an hour of walking through uphills and downhills and checked in at
Hillside Inn
. We had a basic room - 2 double beds, pillows and blankets - but had a great view of the ampitheater-like rice terraces.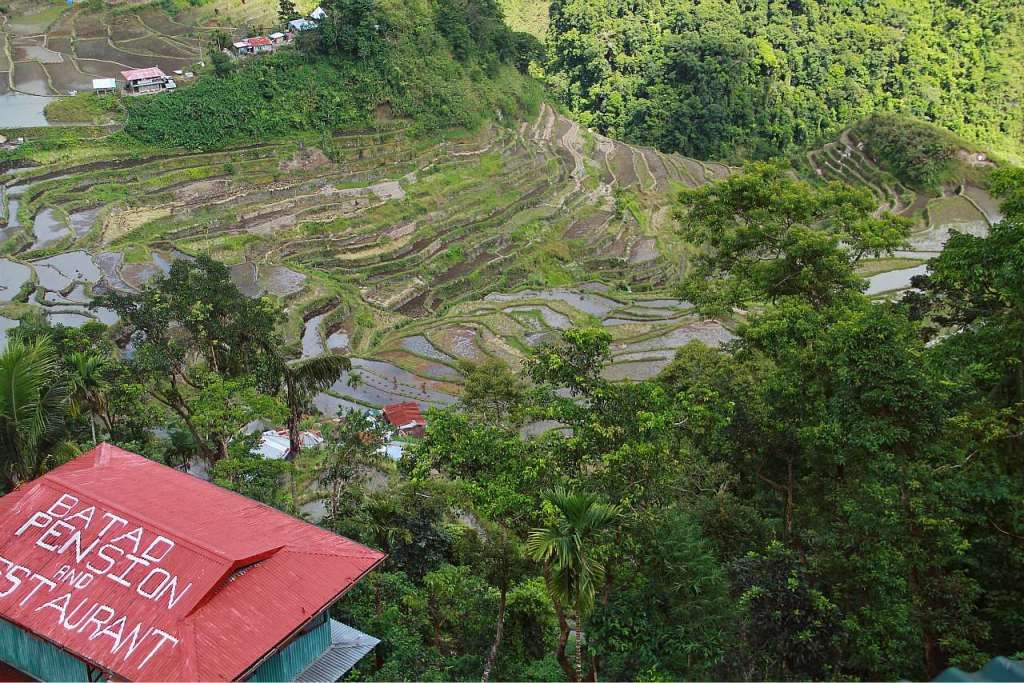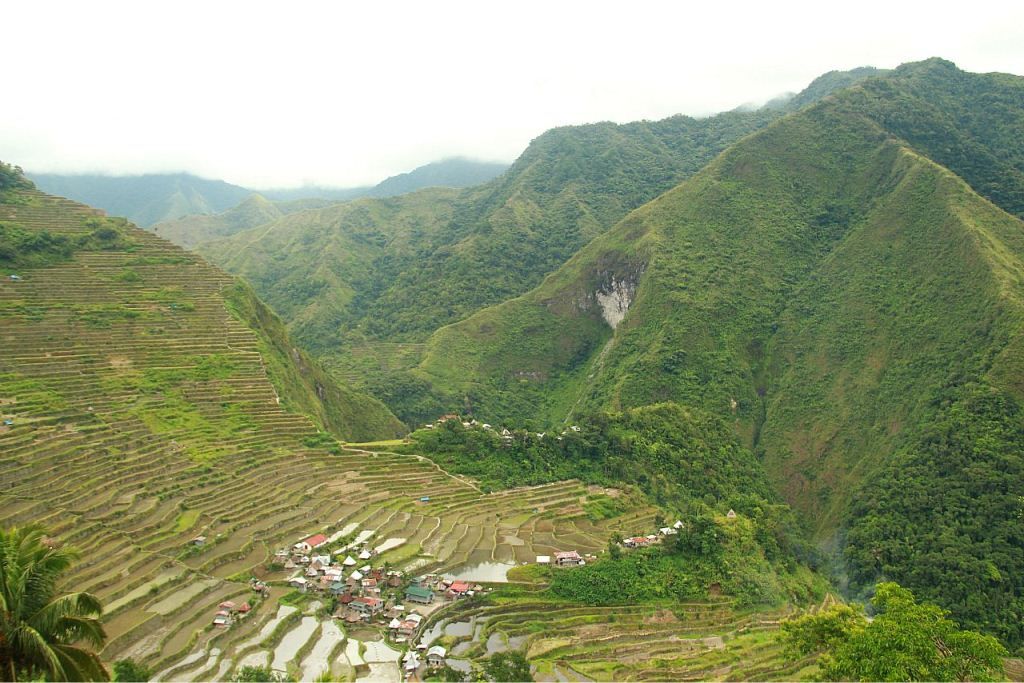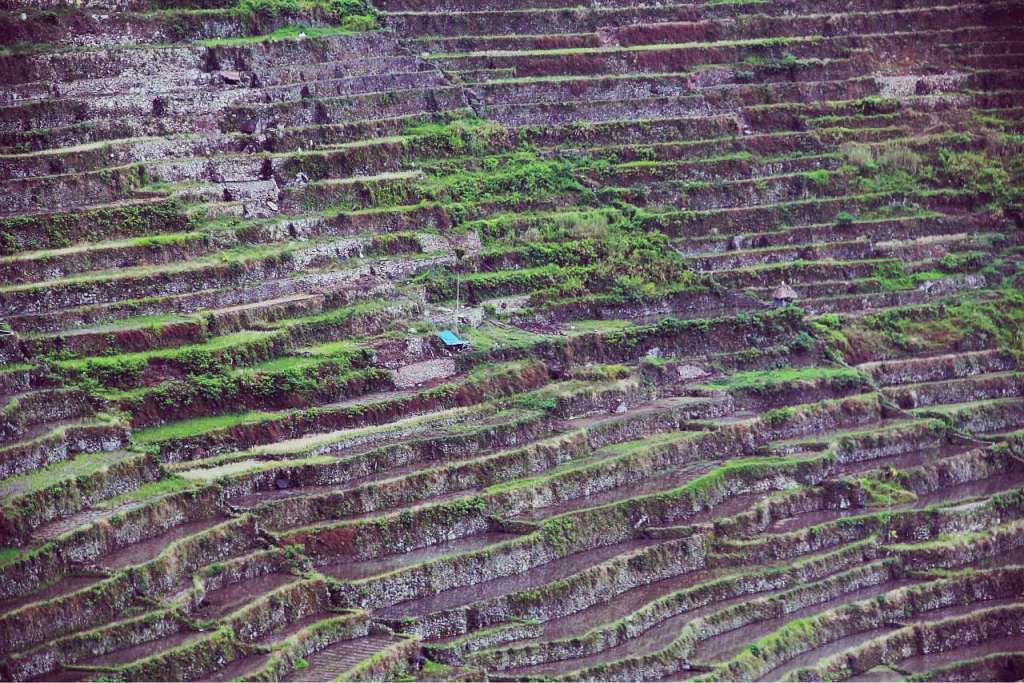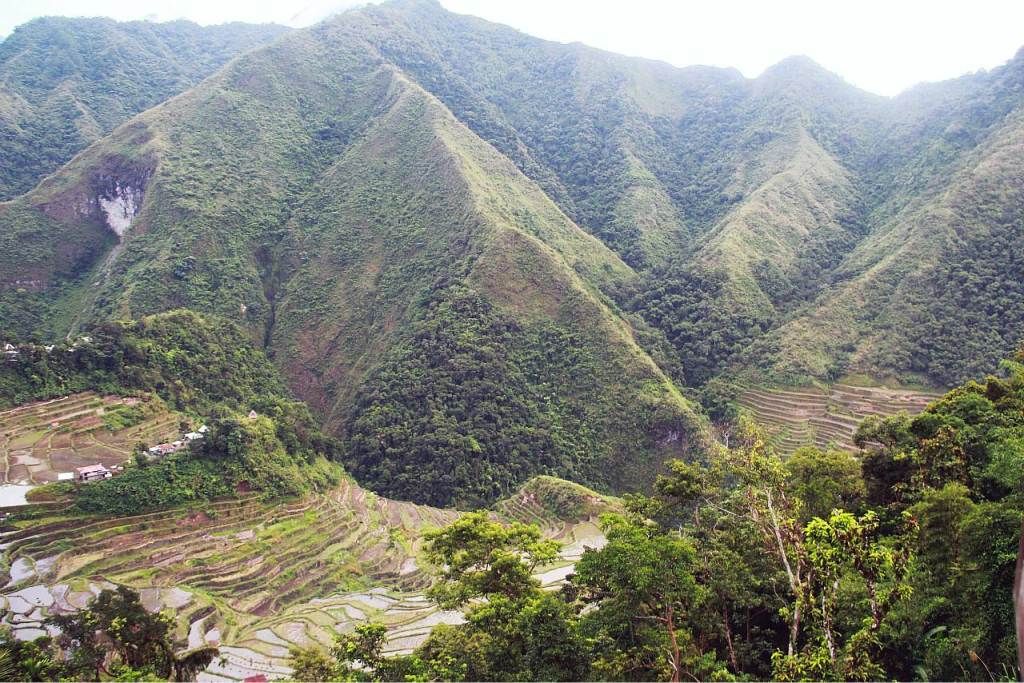 Dining with a view: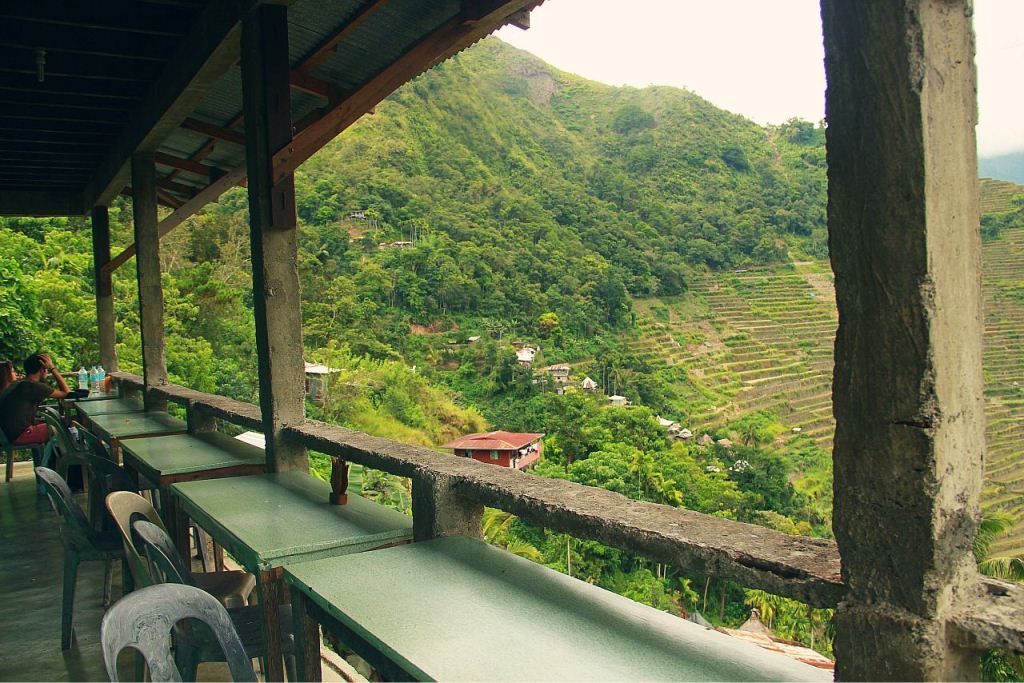 We rested for a bit and started the rice terraces tour at 2:00pm.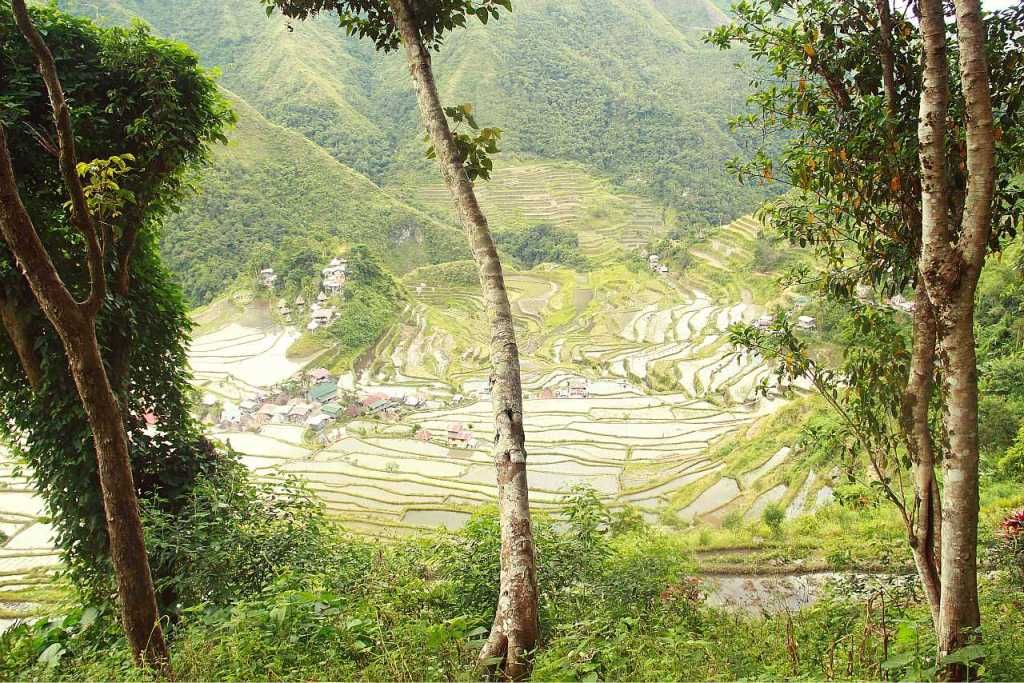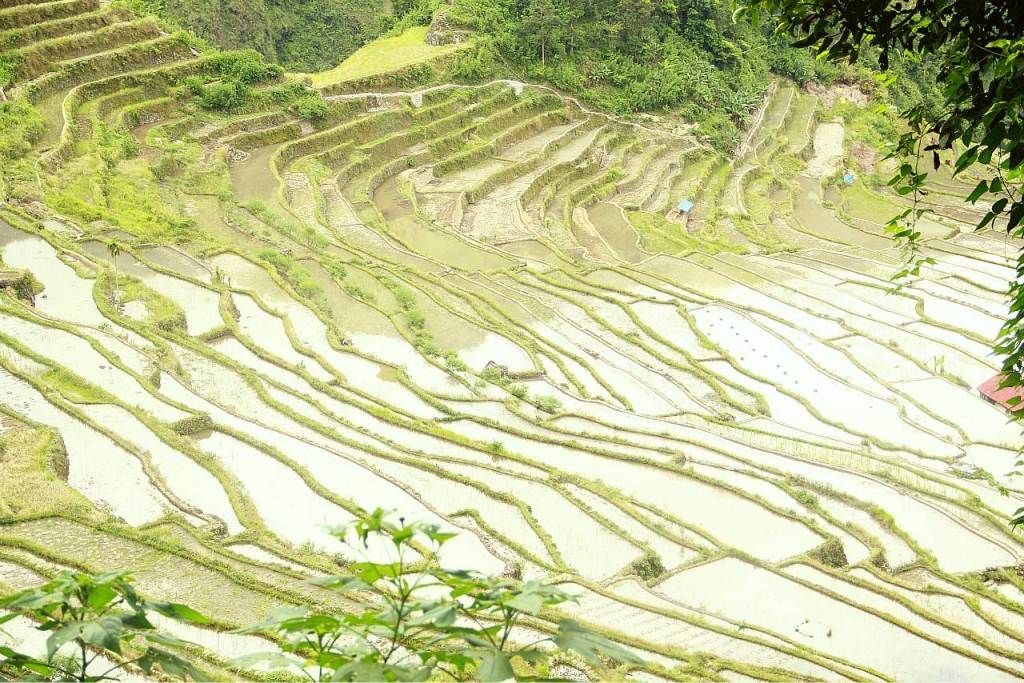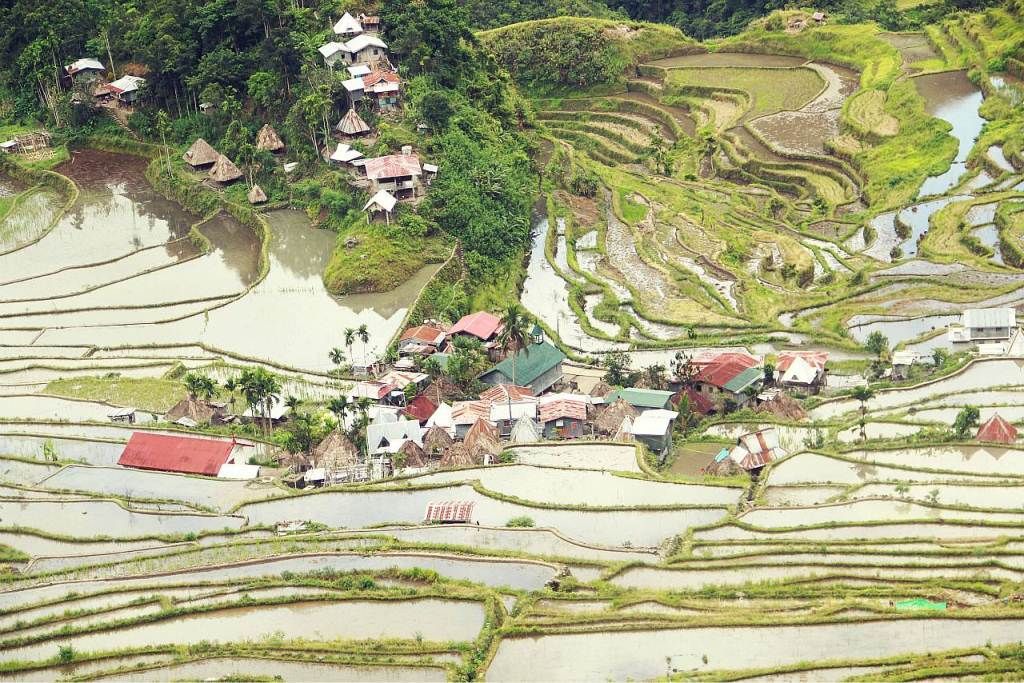 It was scenic and beautiful up there, and like Araling Panlipunan/HEKASI/Social Studies in the flesh. But I gotta admit I felt scared shit and a casualty up there. I've never done ~serious treks/trails~ in my life and my acrophobia kicked in. Though not a severe case, my fear made me slow, unsure, nervous and paranoid.
The above photo was taken by our tour guide because he thought it was cute and smart to document how scared I was. He actually took a couple more while telling me words of encouragements before he decided to help me out. That kid's a piece of work, lol.
Confession: I almost tore up while walking through the narrow edges of the terraces. I was so slow and scared and my heart was beating like crazy and consumed by the thought that one misstep, I'd fall on muddy paddies and break my neck. Know what I did? I took five deep breaths to hopefully subside the fear - just like what Jack taught Kate to do when she'd be gripped by fear in one of Lost's first episodes. (I had been watching loads of Lost before the trip.) I think I felt more scared there than when I skywalked at Crown Regency.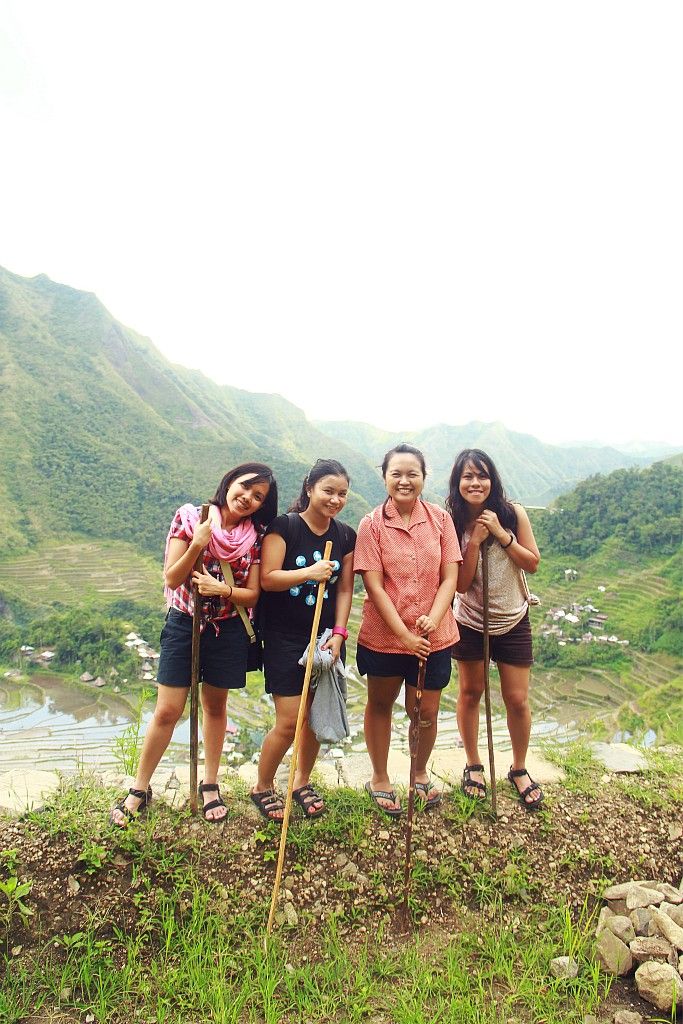 Mel, Ane, me and Jini
When it was time to trek down to Tappiya Falls, JD the tour guide told us there's a steep part going down. That immediately sent an alarm to me that I might trip and injure myself again. As much as I wanted to continue, I wouldn't risk being a casualty again. Basically, my willpower crumbled just by hearing the word "steep".
Ane, Jini and Mel trekked to Tappiya Falls while I slumped on a bench looking at mountains and the river below. I must have stolen some nap too because the next thing I knew they were already back. I let the tour guide take my camera with them so I can still have pictures of the falls. But he didn't adjust the settings so this is the most decent photo of Tappiya Falls I have: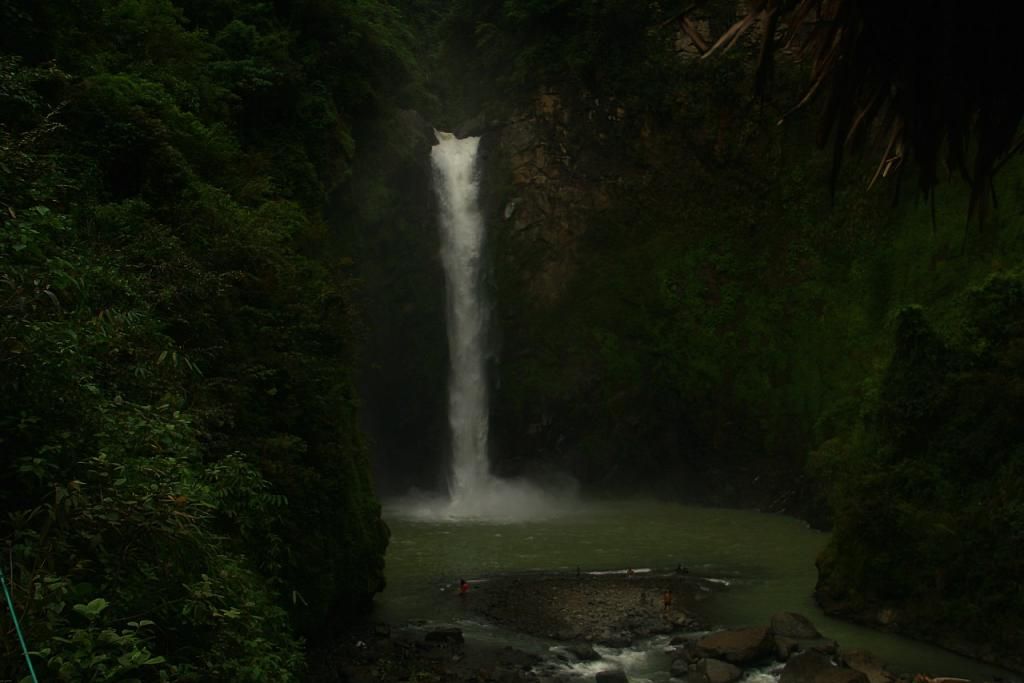 Still a pretty good souvenir even when I didn't actually see it. Ha!
It was already close to 5:00pm so we decided not to trek through the main Ifugao village in the valley anymore and just head back to the inn.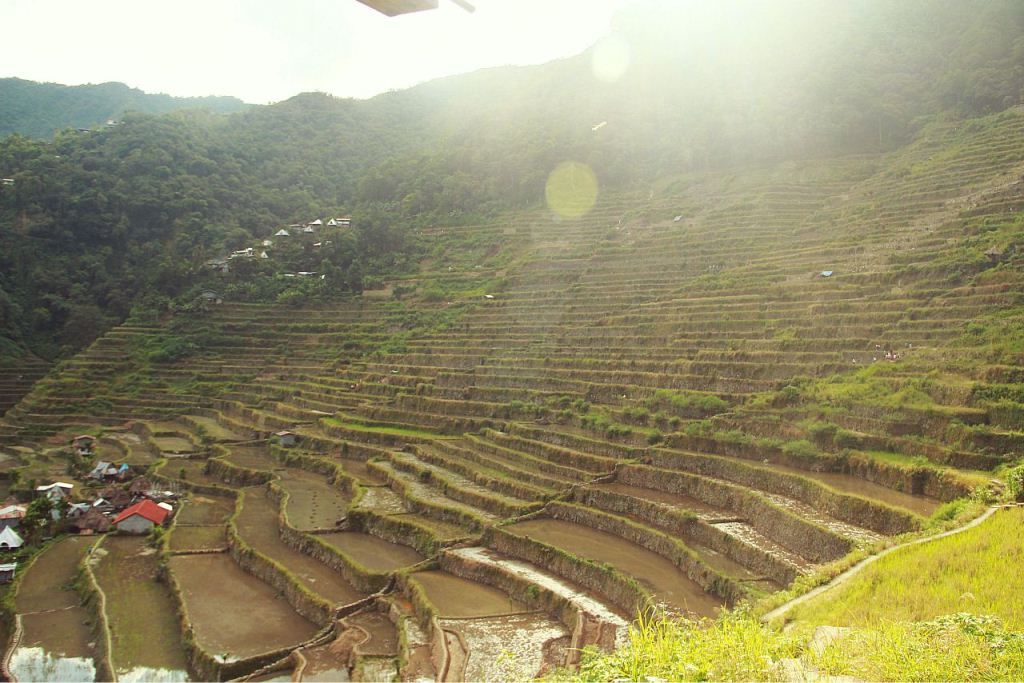 We were so tired even moving a muscle was such an effort. Okay, maybe that was a bit exaggerated but I couldn't even properly bend my legs to sit (plus my knee scrape's still fresh). After taking a very cold bath, we laid down and surrendered to the local
masahistas
.
It was already evening when we went down for dinner post-massage and witnessed a cultural show of sorts. It was full moon.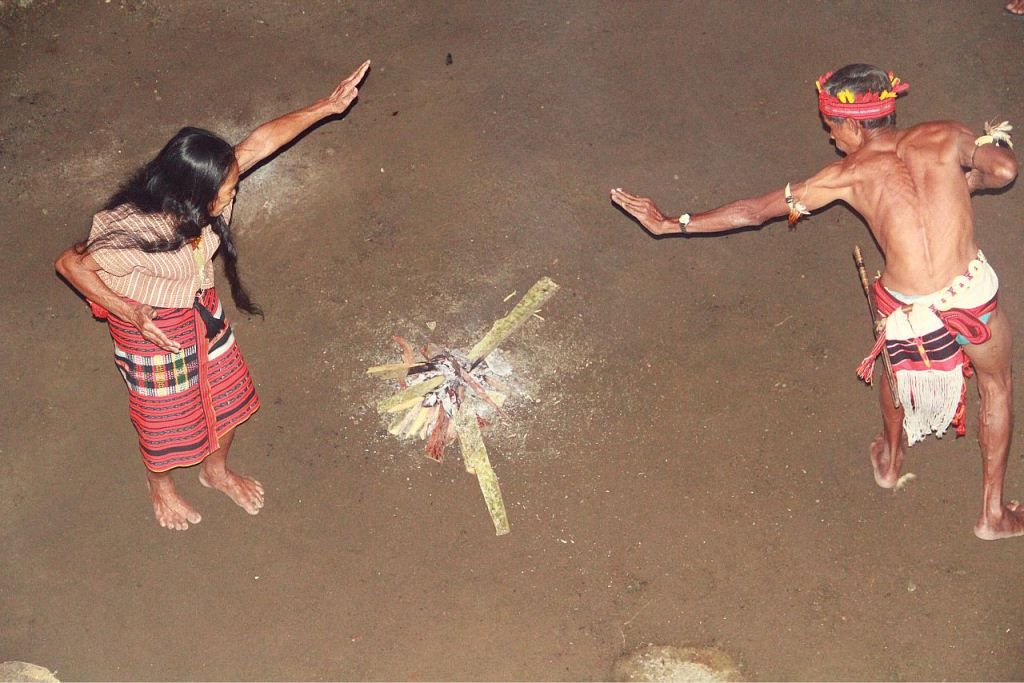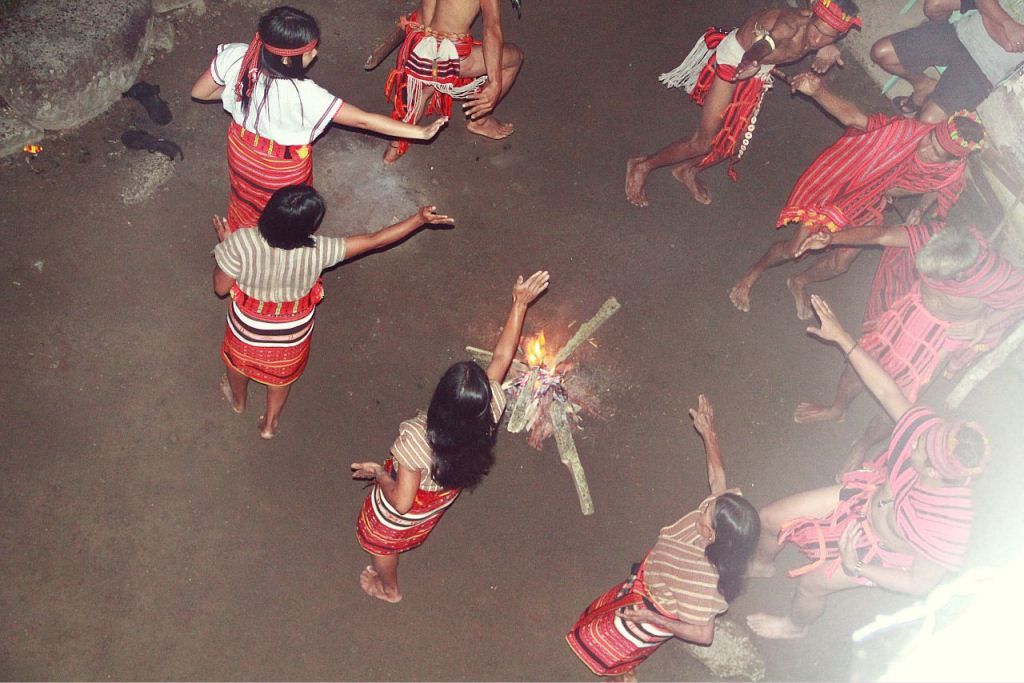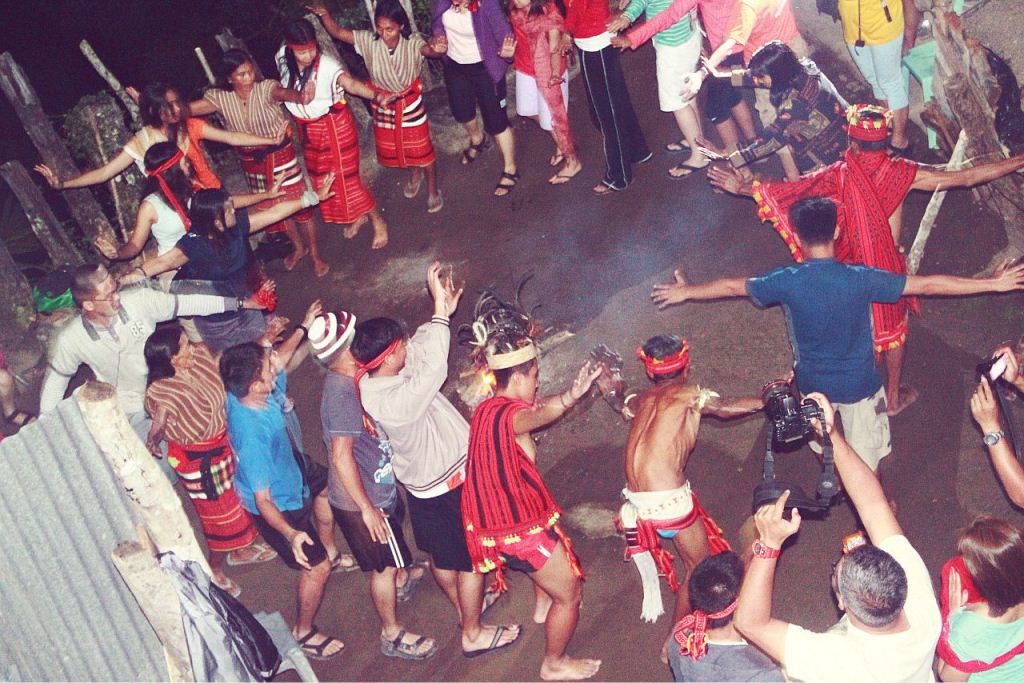 The next day we were off to Sagada but that'll be on the next post.
x Roan