Caveat:
LONG POST AHEAD
!
I can't quite properly start this post and I'm very tempted to kick it off with cheesy phrases like "Sixteen years ago, I was a pimply high school freshman..." or really immature-ish thoughts like "OMGGG TEENYBOPPING AS AN ADULT, LOLZ".
So.
When I heard about
Hanson
coming to the Philippines for a concert, I let out a rather loud "OMG" and probably a little "HOLY SH*T" as my chest begins to pound a bit faster. I quickly recovered myself, put a hand over my mouth to muffle whatever involuntary, unintelligible words I utter when excited. I swore I was going to watch. Well, why not. I can still picture that afternoon when my friends and I (all high school freshman), while holding a BOP magazine, squeaking, jumping up and down, and hopping with delight when we found an address where we can write to Hanson. We were as annoying and noisy as hell but would pubescent, teenyboppers care?
I didn't write them a letter. I never got a tape of
Middle of Nowhere
nor
Underneath
because I couldn't afford one and never got the courage to ask my parents about buying them for me 'cos I know they'd think the whole thing is frivolous and silly.
The boys would tease us that the brothers are really girls.
Listen to Taylor and how feminine he sounds
, they'd say. We wanted to strangle them. Taylor was popular among girls because he was the most good-looking. But I stuck to Zac, the youngest.
Fast forward a little and I actually grew distant from their music. I don't know why it happened. I guess I paid more attention to other bands and groups and didn't quite "grow" with them (Hanson).
I remember when a friend and I had a conversation about musicians and the good ol' high school days 2-3 years ago. She asked me what band I'd definitely be fangirling and I said Hanson. Okay, I've fangirl-ed quite a number of musicians but only a few hold the front seats (for various emo and nostalgic reasons, lol), like Barbie's Cradle,
Incubus
, and yes, Hanson.
So when I found out they're coming and that I wouldn't have to fly to Manila for it, I felt like bursting. A college friend,
Jay
, told me he'd be in town that weekend for a vacation so obvs we had to go and see the brothas.
After our
Taoist Temple jaunt
, we headed immediately to SM Cebu to have lunch and supposed buy tickets. We eventually found out that all tickets are now at Waterfront. Hanson's having a meet and greet that afternoon at the mall so we loitered a bit until maybe 30 minutes before Hanson came out. We didn't buy their Shout It Out CD and 5 of 5 DVD set which permit us to sit in the VIP area, so we just settled behind the tape.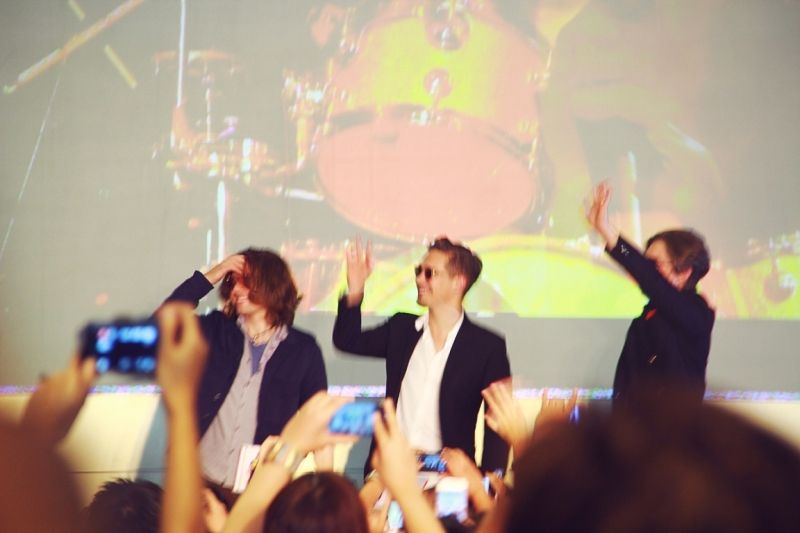 I actually had hesitations days before about watching the concert. I had (and have) plans set out that require some moolah and the penny-pincher in me reasoned that I could use the money for "more important things". But of course, these momentous events don't come often and man, I owe it to my teenybopper freshman self from 15 (or is it already 16?) years ago. I HAD TO SEE THEM.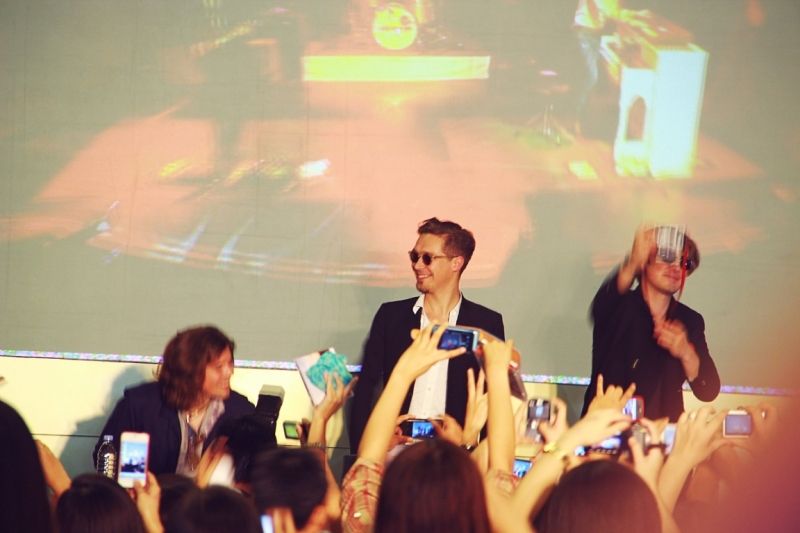 I only got blurry photos of them during the meet and greet. Sigh. I can't properly set a DSLR to save my life. Anyway. let me just say, OMGGG ZAC SO GWAPO. I'm sad I don't have a single decent photo of him! :((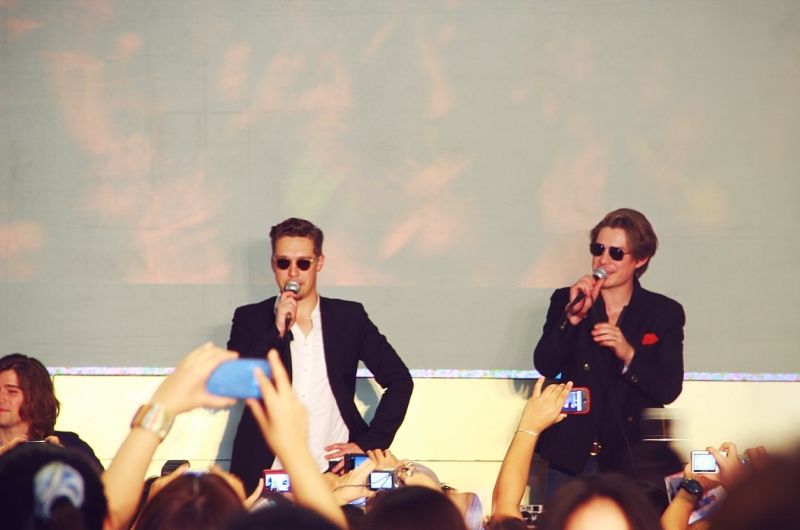 Jay
and I exited when the signing started and headed to Waterfront Hotel to buy tickets. Jay wanted to buy Bronze tickets (standing) but I somehow convinced him to buy Gold. I mean, when you're going to watch a band you've waited to see for more than a decade, you hafta be a bit closer as much as possible, right? I even said something like "This is my freaking childhood!" at some point.
On our way out of the hotel, Jay realized his company-issued phone's lost. Panic attack! He apparently dropped it in the taxi we rode in to the hotel. Security personnel of the hotel told Jay they'll contact him when they find the taxi. So we decided to head home, get some rest and freshen up. While I was home trying to calm my nerves, Jay was apparently tracking the taxi (going to their garage and all) to get his phone back. And he did.
Around 7:00pm, Jay and I and another college friend
Ainna
met up for dinner. We tried persuading her to come with us but she said she's a Moffats fan. Jay and I were like "WHAT? Are they even still alive?" LOLJK.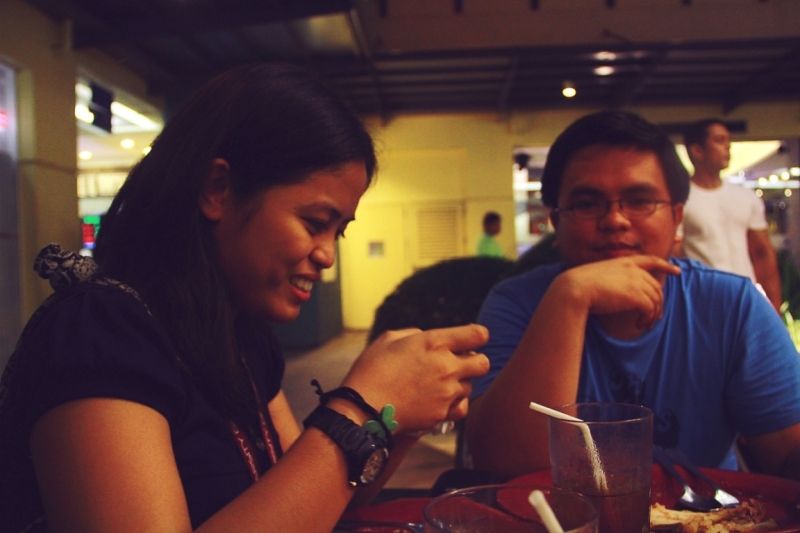 Ainna and Jay
It's so nice getting together with two of the best people in my college days who I hadn't seen for a very looong time!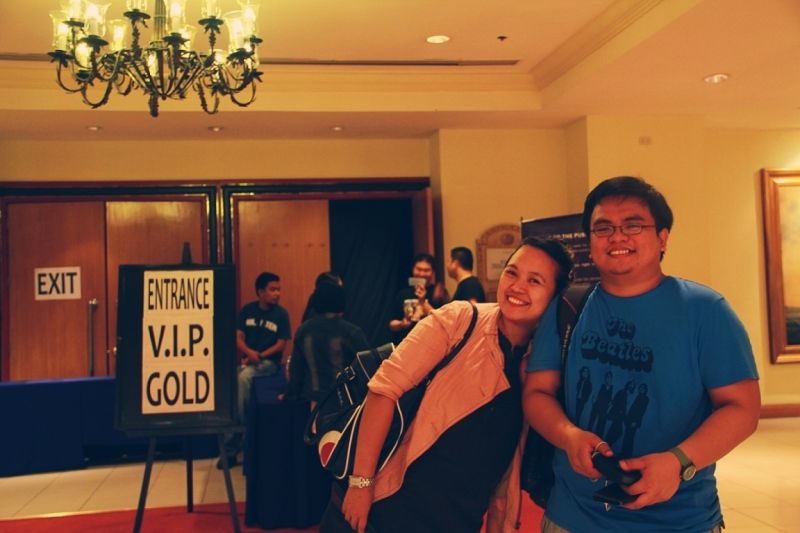 Jay and I outside the VIP/Gold door entrance
So! The concert! I was glad I got to sing along to most of their songs. I jumped up and down, shrieked. Gah, it felt good. And Zac. Oh Zac, I. CAN'T. EVEN. That face. Sigh. When he sang The Beatles' "Oh, Darling" (Jay was wearing a Beatles shirt, whatwhat!), I was so
kilig
. Eeeep. God, I sound so immature.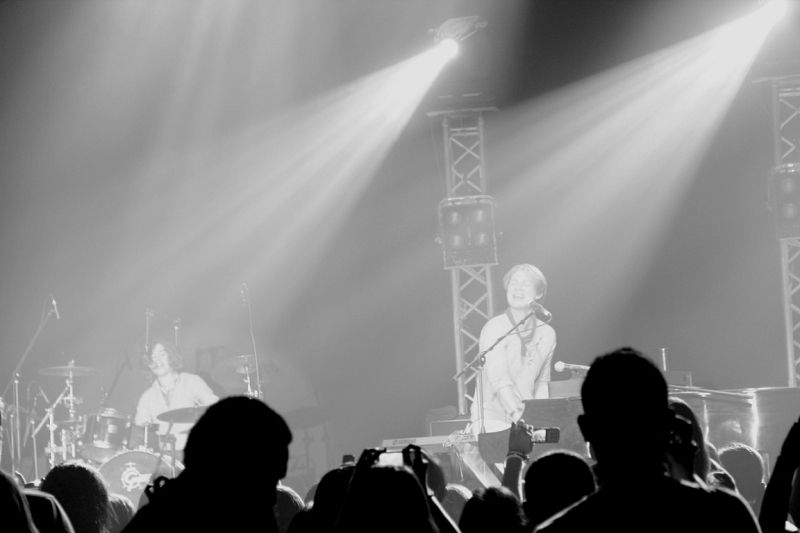 Overexposed FTW!
They sound so good, harmony and all.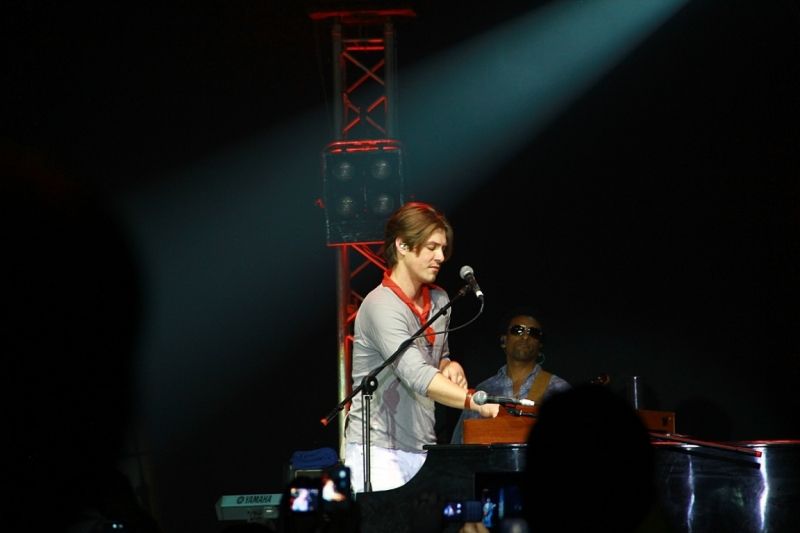 The only decent photo I took!
I had to go out and leave my camera at a counter because SLRs were apparently not allowed inside. I mean, the security people must have seen me taking photos with it right outside the entrance but when we were entering, they didn't even bother checking my bag. One of our seatmates got pretty emotional about the whole no-DSLR-inside policy, she walked out and got word with a bunch of security people, lol. I could see she was crying with her smudged eyeliner and red-ish eyes when we saw her post-concert.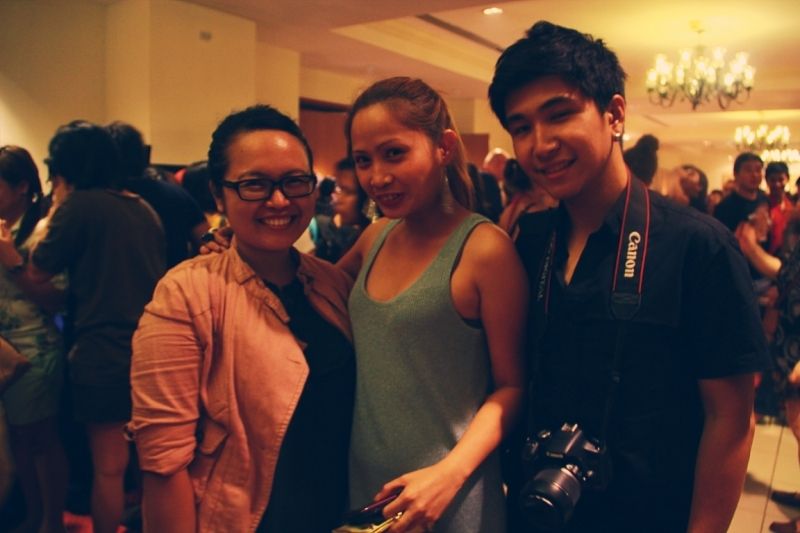 With Jade and Gab!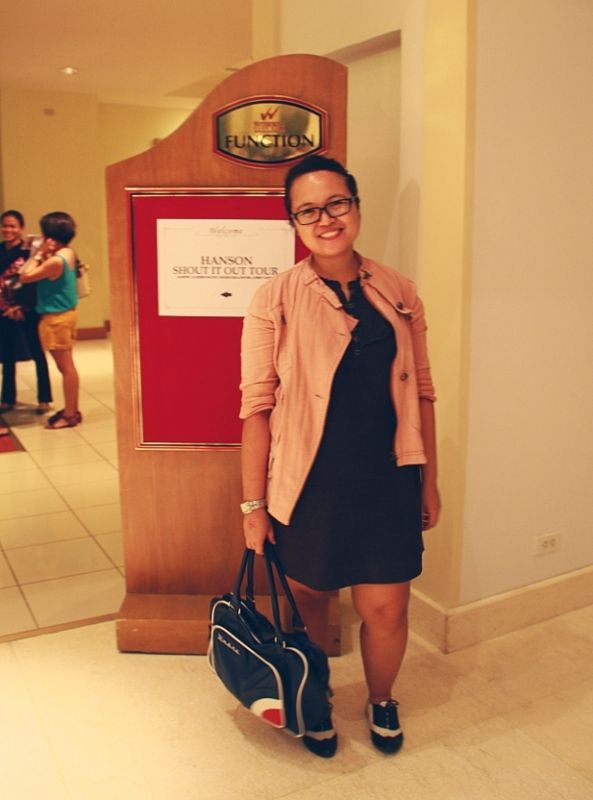 I kinda have to for souvenir purposes and the laughs.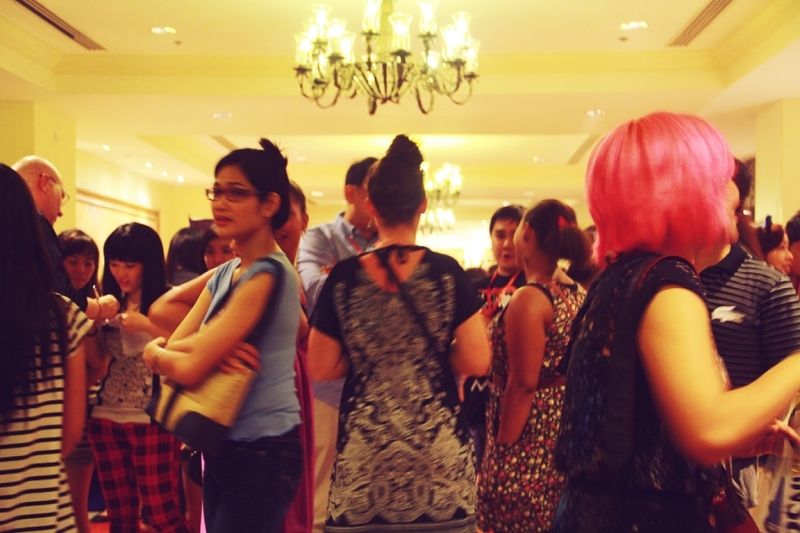 Post-concert crowd. Hey, there's Helga!
The first time Hanson was here (2004?), I was in Davao surviving college. I could only wish they come back and promised I see them live. I'm glad I didn't break that promise. One of the best, awesomest nights of my entire adult life!
x Roan