For more than 3 years, I hadn't been wearing eyeglasses. I got sick of my last pair and just stopped using it. I'd been called "
bulag
" at the office and I'm like
kebs!
I had been headaches due to eye strain and noticed things and people have become blur-er than ever. Translation: foggy. Haha! So I decided to filch a portion of my buy-new-PC budget to finally get a new pair of specs.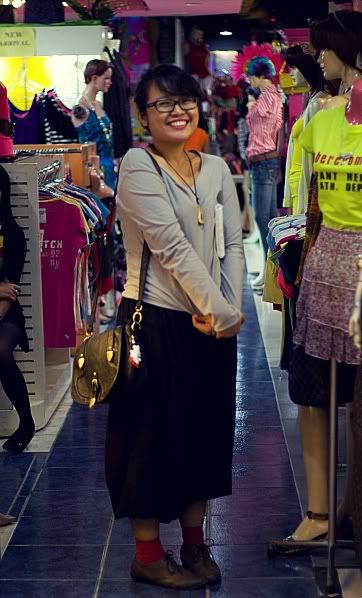 thrifted top and harem-like skirt (I still effin' don't know what it's called), Cava bag, and Janylin brogues
I tagged along Ed and his colleague (and my former officemate) to SM for some gig. While they were doing their thing, I was busy roaming for possible purchases of new nail polish bottles. Translation:
nag-aadik na naman
.
So I was looking at In2It looking at these bottles when the sales rep said, "Yes ma'am, what color?" and when I answered in Bisaya, she got a bit surprised. She thought I was Korean, Chinese or something. Sorry to disappoint! :D
Ended up buying a book instead.
My nearsightedness expectedly got worse. What else! And this pair has been making my life so much easier. Like earlier today, the movie theater experience was so much better - no squinting and blurry images. By the way, REAL STEEL IS BAD ASS!!! WATCHITTTT!!!
- Roan