The reason of all reasons. The point of it all.
Yes, this is the point of my trip to Manila - Incubus' Manila leg of their If Not Now, When? tour. Three years ago for their Light Grenades tour, I flew to Manila too to watch them live (I was already in Cebu then and I promised my friend I'd go as a birthday gesture to her). It was my first time to watch a 'real' concert and an international one at that so imagine my excitement. I would get lost at some Incubus geekery but you know, who cared? And I had a real sweet fleeting moment (don't ask) before the concert started so it was quite memorable. Hmm, I think I still have some pixelated camera phone videos somewhere...
I sang "This is the day, this is the day that the Lord has made" immediately after I opened my eyes that morning. True story. Had a late lunch at Pepper Lunch Greenbelt then headed to Araneta Center. We arrived early, around 4:00pm and the earlier birds are already queued up.
My friend and I felt a bit sleepy so we thought a cup of coffee is fine. IT WORKED. We felt even more nervous AND excited.
Waiting was an agony. I already felt tired and sleepy queuing up outside the coliseum and standing/waiting at the SRO area a.k.a. mosh pit. But you know, IT WAS ALL WORTH IT.
Megalomaniac (video source)
ZOMG I nearly died HAHA.
Can you see me? I can't. Haha. There was a lot of pushing and jumping and I just had to jump up and down too otherwise I'd die LOL. I was actually close to the front (like 4th or 5th row, if you can make out the rows) but I had a bit of trouble seeing because I'm short and the farking cameras are just all around my face. I still had a pretty good view though.
I decided not to take videos and photos during the concert because I wanted to just be an old school concert goer.
One of my favorite Incubus songs is Consequence.
Consequence (video source)
If they sang I Miss You 3 years ago, I would have bawled buckets. Not anymore HAHAHA.
I Miss You (video source)

Post-concert: Haggardo Versoza!!!
Thank you for a stupendous performance, Incubus!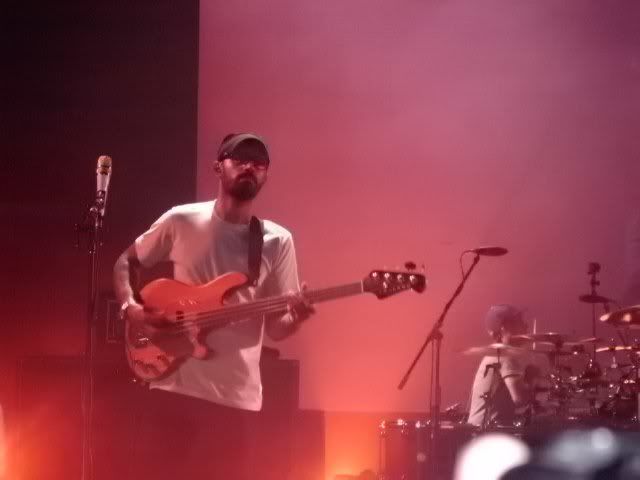 *Photos c/o Jini
You better not blink,
Roan