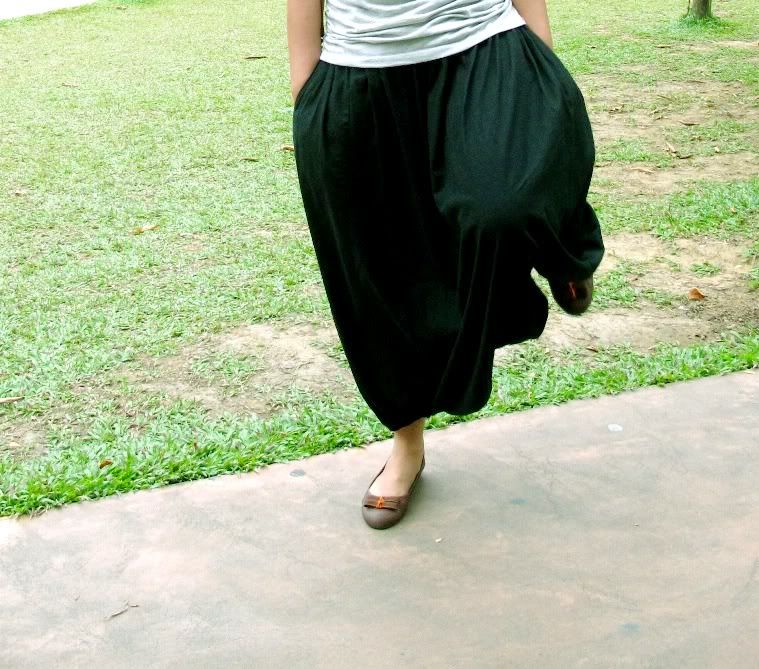 Top - Forever 21; Skant? Pirt? - thrifted; Bow flats - Primadonna; Bag - thrifted
This is what I wore yesterday for a movie date with the boy. We watched "Unknown" starring Liam Neeson, Diane Kruger, January Jones and Aidan Quinn. Pretty neat movie. By the way, why is Liam Neeson very good at "I-lost-something/someone-I-gotta-find-it/her/them" kind of movies, just like his previous movie 'Taken'? Haha.
Anyway, I thrifted this sorta harem pants months ago for around $1 or Php50. I'm not sure what they are actually, is it a skirt or a pair of pants? Skant? Pirt? When I laid my eyes on it I knew I had to have it. It is a pretty interesting piece, I thought it was a maxi skirt but when examined it, the bottom is actually stitched close except for the two holes where your legs could go through. I had second thoughts on wearing this because I reckoned you've got to have the 'attitude' to pull this one off and I thought I don't have that. But what the heck, if you don't try, you won't know right? So there you go… it was so comfortable and fun to wear!