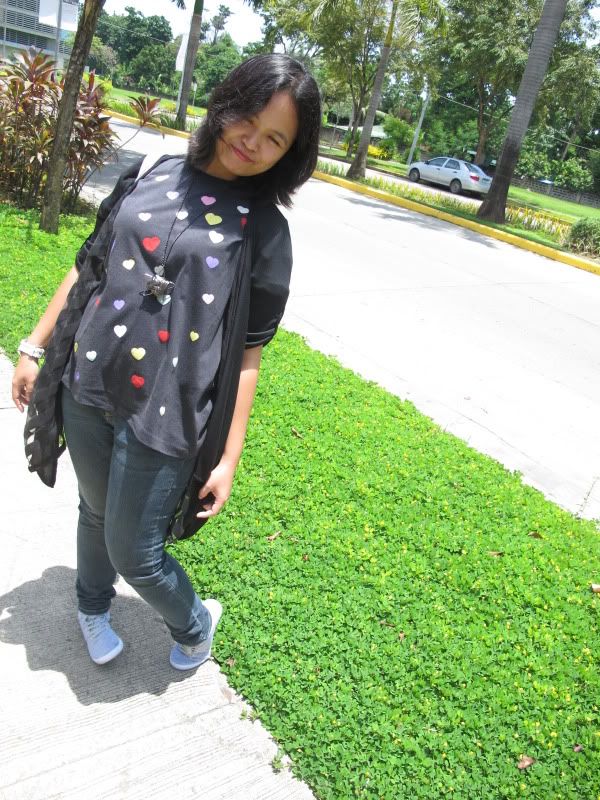 Shirt

- thrifted;

Pants

- Human;

Cover-up

- SM Dept. Store;

Shoes

- Reva;

Necklace

- Maze;

Watch

- Fossil
I love this shirt. I got this from a thrift store and I've worn this probably 5 times already though I only bought this not too long ago. I find it adorable because of its colorful and cute print.
I'm not sure if I'm already turning this into a fashion blog. I would love to but I am far too ignorant about fashion and style. But I've been in a funk for months now and something inside me really tells me to do something creative, exciting and challenging. I also want to revive my blogging. I love clothes but I guess I'm just financially constricted to really indulge in them (and I guess I prioritize buying books and CDs more heehee) and I am too faint-hearted to go out there and take fashion and style risks.
I am too insecure with how I look too, especially now that I've gotten bigger. Yeah, I was really slim before but thanks to lifestyle change, I've accumulated fat throughout the years. So now I'm trying to be healthy and slim down again.
Fashion bloggers are very inspiring and their creativity and sense of individuality challenge me dance on the edge and color outside the line.